Home
»
Maid Service Software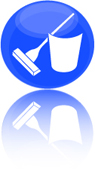 Maid Service Software
Looking to clean up with your maid service business? Well the time has come to take out the broom and sweep away the papers laying all over your desk. Put everything into one place, Service Dispatch Software, the one place for all the things you need to track and manage your Maid Service business.

Our system has been created to handle new job estimates, job scheduling, work orders, invoicing, Accounts Receivable, and Accounts Payable. Service Dispatch is completly web based and accessable from anywhere you are. The built in easy to use GPS tracking system allows you to always know the location of each employee.

Your new business organization will allow you time for new jobs and possible business growth. Stop dreaming of spare time, make a clean sweep and make it a reality, take you free tour of our Service Dispatch system and see how.