Home
»
Painting Service Software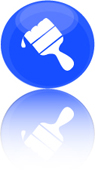 Painting Service Software
Get out the brushes! Paint your business a clear operating picture! How you might ask? With the Service Dispatch Software Package, the one clear picture for all the things you need to manage your Painting business.

The easy to use system has been designed to handle all your job estimate needs, scheduling, work orders, invoicing, Accounts Receivable, and Accounts Payable without special computer training. The Service Dispatch System is completly web based, making it accessable from any location. The uncomplicated built in GPS tracking system allows you to know at all times where to find your employees.

You can do it! There is no special computer knowledge necessary, we will show you how. Take your free tour and see for yourself!